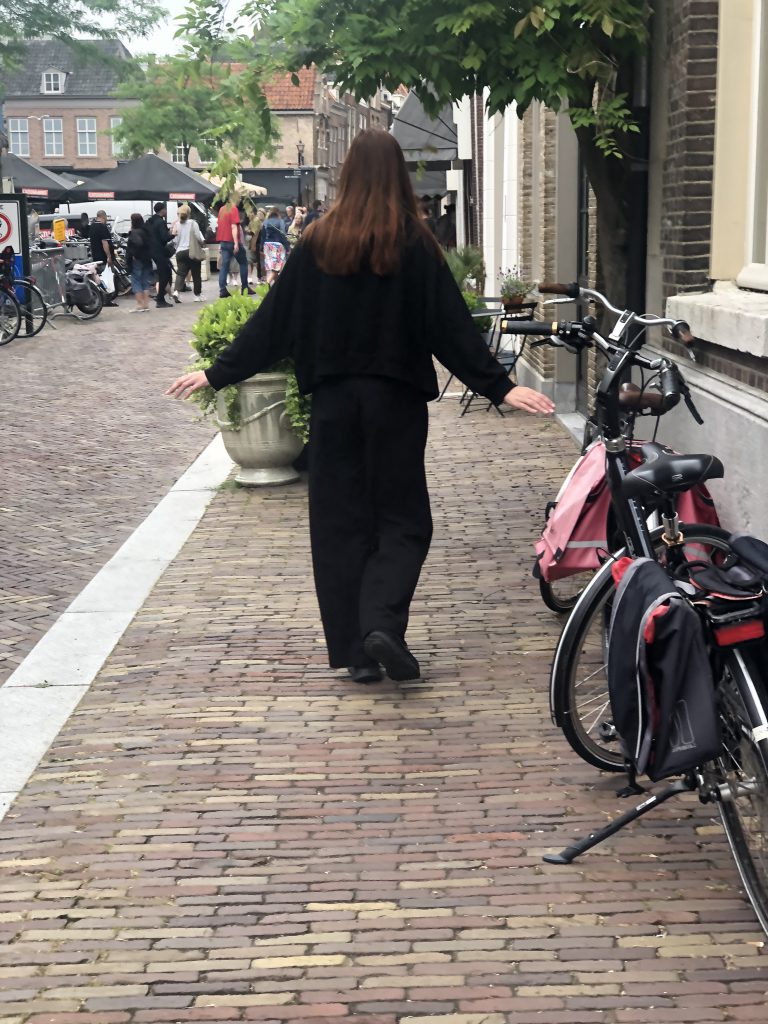 Ed Woodham: Fly
(performed by Emmy Vollaard)
The Nieuwstraat is an average street in the center of Dordrecht, the Netherlands.
The Nieuwstraat Festival took place on June 19, 2021, between sunrise and midnight. The performances were performed by volunteers, unannounced and without explanation.
The performances involved took place in everyday environments and hid the unusual within the usual. Passers-by will have observed the actions, but may not have recognized them as performance art.
Works by:
Peter Baren
Hans Bossmann
Vladimir Bovt
Finn Melvin Caird
Clare Charnley
Beau Coleman
Jane Domaliç
Jorn Ebner
Theodora Eliezer
g.a.d.o. (Paloma Sanchez Palencia & Lena Skrabs)
Johannes C. Gerard
Ienke Kastelein
Joshua Legallienne
Frans van Lent
LuLu LoLo
Andrew McNiven
Myrte van der Molen
Andrei Monastyrski
Nico Parlevliet
Mikio Saito
Masha Sumnina
Albert van der Weide
Ed Woodham
Jing Zhou
The Nieuwstraat Festival fits in a series of Unnoticed Art Festivals. It balances on the line between public and private. It shows artworks hiding in normality. The language, used to express the works, fits in the average social behaviour in public space and, because of that, remained unnoticed to bystanders.
Creating the concepts and executing the works are split. Artists send their concepts more or less as manuals. The chosen works  are carried out by a group of (both experienced and unexperienced) volunteers. These volunteers have a double roll. They are participants as well as audience. They are responsible for realising the performances in the best possible way and, doing that, they fully experience the works. In fact they become part of it.
This way the audience is not excluded but it is actually embedded.
The works in the 2nd Nieuwstraat Festival were performed by:
Peter Baren, Stefanie van den Bos, Geerten Ten Bosch, Hans Bossmann, Finn Melvin Caird, Jos Deuss, Malou van Doormaal, Marian van Hoof, Jolanda Jansen, Ienke Kastelein, Petra Laaper, Frans van Lent, Fang Mij, Nico Parlevliet, Sandra Posthuma, Jello Reumer, Yvette Teeuwen, Emmy Vollaard, Paul Voors and Vera Whistler.
The 2nd Nieuwstraat Festival is kindly supported by: